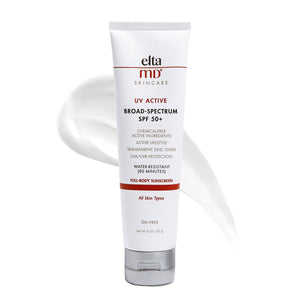 EltaMD UV Active Broad-Spectrum SPF 50+ is a physical (no chemical sunscreen filters) sunscreen specially formulated for active lifestyles. It is also great for daily use for both adults and children. It is a water-resistant (80 minutes) sunscreen that will not rinse off in water or drip into the eyes and sting.  EltaMD UV Active delivers broad-spectrum protection against UVA (aging) and UVB (burning) rays and contains antioxidants. It offers high-energy visible (HEV) light protection. 
EltaMD UV Active is fragrance-free, oil-free, paraben-free, sensitivity-free
and noncomedogenic. It is safe for all skin types.